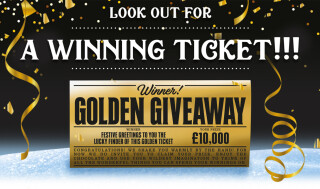 We know Dairyfine chocolate is its own delicious reward but if you find a Golden Giveaway ticket inside one of our bars you could win a large cash prize! There are prizes of £5,000 and £10,000 up for grabs. Pop into store today for your chance to win!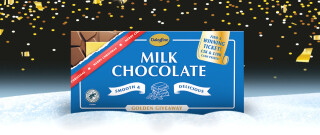 Congratulations, you have the chance to win £5,000 or £10,000! Simply fill out the application form and send it to this email address: goldengiveaway@aldi.co.uk. Don't forget to attach a picture of your Golden Giveaway Ticket (Front and Back) and the receipt to the email too or your entry won't be counted.

Pick a popular question and find an answer to help.
Aldi Golden Giveaway Promotion
If you find a winning ticket in this Golden Giveaway Bar of Dairyfine Milk Chocolate, you will have won £10,000 or £5,000. To claim your prize, please click here and follow the instructions by 11.59 pm on 24 January 2022. You will be required to provide (a) your name and contact details; (b) your date of birth; (c) the unique reference code on your winning ticket; (d) a photo of your winning ticket; and (e) and proof of purchase. You will then be required to send your original winning ticket to Aldi, and will be sent a stamped addressed envelope for that purpose. If you do not provide this and claim your prize by 24 January 2022, your claim will become invalid. To enter, you must be resident in Great Britain and over the age of 18. You cannot enter the Promotion if you are an employee of any of the following: (a) Aldi; (b)any entity (including any of their parent and/or affiliate companies) involved or associated with the Promotion or the prizes, including but not limited to the printer of the tickets and the supplier of Dairyfine Milk Chocolate; or (c) any of Aldi's agencies (including any of their parent and/or affiliate companies); or (d) the immediate family (spouse, parents, siblings and children) and other household members of any such employee described above. Maximum of 3 800g bars per customer. To avoid disappointment, please check the full T&Cs for this Promotion here.
Promoter: Aldi Stores Ltd, Holly Lane, Atherstone, Warwickshire, CV9 2SQ. Please do not send any correspondence to this address.