Grande Alberone Gift Pack
Product Ref: 072395184038800
Product Information
By law we cannot sell this product to anyone under 18
A beautiful gift pack containing two classic Italian wines.
Grande Alberone Chardonnay Catarrato Inzolia
A warm and enveloping embrace, coming from the sun-kissed island, in the heart of the Mediterranean sea. With its delicate aromas of citrus and tropical fruit, know how to brrighten up your evenings in sweet company.
Grande Alberone Oak Aged
Selected from the best grapes from each region. Taste all of the flavours of Italy, from the perfumes of the cold North, to the wramth of the enchanting South.
ABV
13% - 14.5%
Bottle Size
2 x 75cl
Country
Italy
Grape
Cuvée, Chardonnay, Catarratto, Inzolia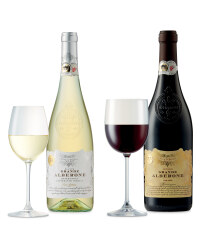 Allergy:

Contains Sulphites

Aroma:

Cooked peaches and melon & Clean, with hints of spices and dried fruits.

Colour:

Mixed

Food Matching:

Grilled meats, pasta with red sauce and strong cheeses.

Package Type:

Gift Box

Residual Sugar:

Gavi - 2g/l, Nebbiolo Langhe - 1.6g/l

Serving Advice:

8-10 degrees C and room temperature

Taste:

Medium bodied, smooth fresh fun wine with a beautiful finish & The Grande Alberone is rich and full, showing flavors of cherry and blackberry with hints of raisin.

Type:

Wine