Tender lamb roasted in grandessa honey and rosemary. Perfect for Sunday dinner.
Grandessa Lamb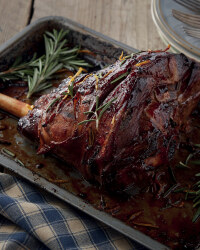 Recipe Information
Ingredients
1 Ashfield ½ Leg of Lamb
50g Grandessa Squeezy honey
Rind and Juice of 1 lemon
1 tsp Stonemills Rosemary, or two sprigs fresh Rosemary
½ tsp Stonemills garlic granules
200ml Boiling Water
Black Pepper
1 Quixo chicken stock cube
Method
Preheat the oven to 200°C/400°F/ Gas Mark 6.
In a mixing bowl pour the boiling water over the stock cube.
Add the honey, dried rosemary or fresh, garlic granules, lemon juice and rind, season with some black pepper and mix well.
Put the lamb joint in a roasting dish. Make a couple of cuts across the top of the meat and pour over the honey mix.
Roast in the oven, uncovered, for 30 minutes, basting from time to time.
Turn the oven down to 180°/350°F/ Gas Mark 4.
Roast for another hour, basting as before.
Allow to rest covered in some tin foil for 15 minutes before carving.