A simple, sophisticated Orange Roasted Chicken covered in oregano, orange juice, rind and paprika to pack a Mediterranean punch.
Greek-Spiced Orange-Roasted Chicken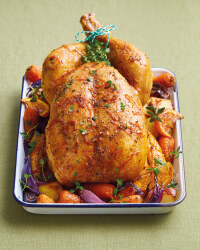 Recipe Information
Ingredients
1 x Fresh Extra Large Whole Chicken
800g Red Potatoes
1 x large Orange
2 x Red Onions
200g Chantenay Carrots
1 x Garlic Bulb
80ml x Olive Oil
1 x heaped tsp Dried Oregano
1 x tsp Paprika
Sea Salt and Black Pepper
Method
Pre-heat the oven to 180°C/Gas Mark 4.
Peel the potatoes and cut into chunks. Wipe and trim the carrots, then peel the onions and cut into wedges.
Next, grate the rind from the orange then cut the orange in half and squeeze the juice from one half. Cut the other half of the orange into 4 and put in the cavity of the chicken.
In a bowl, mix the olive oil, oregano, orange juice, rind and paprika, season with some salt and pepper and mix well.
Put the chicken in a large roasting dish then scatter the potatoes, carrots and red onions around the bird.
Cut the garlic in half and tuck it under the vegetables. Rub the olive oil mix over the bird and drizzle over the vegetables.
Roast in the oven for 90 minutes – check after 60 minutes and if the vegetables and chicken are getting too brown, cover loosely with foil.