How to make revolting Green Witches' Fingers.
Green Witches' Fingers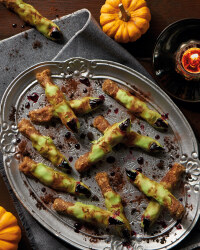 Recipe Information
Ingredients
6 x Macadamia and Coconut Paleo Bars
150g Icing Sugar
1-2 tbsp Cold Water
½ tsp Green Food Colouring
3 Dried Prunes
Optional:
1 tbsp The Pantry Cocoa Powder
1 tbsp Jam
Method
1. Microwave the paleo bars for 1-2 minutes, checking every 30 seconds, until the bars have softened.
2. Slice the softened paleo bars in half lengthways and, when they are cool enough to handle, mould them into the shape of witches' fingers.
3. Leave until cool.
4. Mix the icing sugar with the water and food colouring (be careful not to add too much water, the icing should be quite thick).
5. Dip the fingers into the icing and remove any excess from underneath the finger to avoid pooling.
6. Place onto greaseproof paper.
7. Carefully cut each prune into 4 triangles to make the nails and place these onto the ends of the fingers.
8. Leave the fingers until the icing has set.
9. For extra detail use a cocktail stick to scratch some wrinkles into the fingers and then brush with the cocoa.
10. Finally add a few drops of water to thin the jam and brush this around the nails to look like blood.