Greyson's London Dry Gin 70cl
Product Ref: 003325239841101
Product Information
By law we cannot sell this product to anyone under 18
A clear, light crisp gin with rounded spice and a touch of juniper. Delicately infused and traditionally distilled for a clear, crisp and complex flavour.
Please note this product is not available for delivery to Scotland or Wales.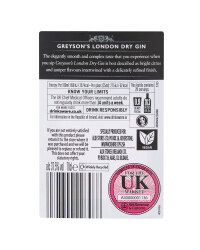 ABV:

37.5%

Units Per Bottle:

26.3

Units Per Serving:

0.9

Vegetarian:

Yes
Serving suggestion
Perfect for G&T. Add plenty of ice, use a good tonic and garnish with a sprig of fresh mint
Wine/Spirits Disclaimer
Prices and "Alcohol by Volume" or "ABV" measurements may be different in stores in Scotland or Wales due to minimum unit pricing laws. See in stores for details.