Caramelised strawberries with grilled fruit cake, lemon cream and waffle chunk toppings.
Grilled Balsamic Strawberry Sundae by Judy Joo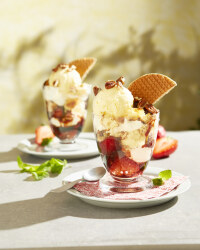 Recipe Information
Ingredients
For the strawberry compote:
8 tbsp balsamic vinegar
6 tbsp brown sugar
4 fresh thyme sprigs
4 fresh basil sprigs, optional
12 large strawberries, halved, and tops removed
For the mascarpone cream:
1/2 tub (125g) mascarpone
125ml double cream, whipped to soft peak
35g icing sugar
½ lemon, zest only
For the grilled cake:
2 slices of Aldi lightly fruited cake
Toppings:
Specially Selected Vanilla Ice Cream
Aldi Butter Pecans, crushed
1 Aldi Oaties cookie, crushed
Aldi Caramel Waffles, cut into quarters
Sprigs of fresh basil, optional
Method
In a small cast iron pan, tip in the balsamic vinegar, sugar, thyme, and 2 of the basil sprigs, whisk together until sugar is dissolved.
Place on the grill and allow to infuse over indirect heat for 15 mins. Brush the strawberry halves with the balsamic glaze and then add to the grill.
Allow to caramelise and get marked for about 1 minute. Remove from heat and position on a cutting board, dice the strawberries, and place into a bowl.
Pick the leaves off from the remaining 2 basil sprigs and chiffonade the leaves. Mix the basil chiffonade in with the strawberries.
To make the mascarpone cream: Whip the double cream to a soft peak, and then fold in the mascarpone and the lemon zest. Put in a piping bag and chill.
Cut two slices of the fruit cake about 1 cm thick. Place on grill and cook until marked and slightly toasted. Cut into dice sized pieces (1.5-2cm wide).
In four sundae glasses, place a spoonful of the strawberry compote on the bottom, top with a few grilled pieces of cake, then pipe in some of the mascarpone lemon cream. Then repeat (strawberry compote, cake, and mascarpone).
Finish with a bit more compote, and top with a scoop of ice cream. Garnish with crushed nuts, cookie, caramel waffle wedge, strawberry compote and fresh basil sprig, if you like.