Luxurious meringue dessert served with yoghurt, jam and rum-infused tropical fruit.
Grilled Meringue with Rum Infused Tropical Fruit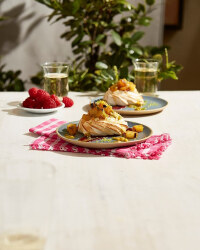 Recipe Information
Ingredients
4 Meringue Nests
½ Pineapple, peeled
1 Mango, peeled and sliced into 1cm pieces
150ml Dark Rum
2 tbsp Brown Sugar
1 Punnet Raspberries
2 tbsp Raspberry Jam
1 Jar Lemon Curd Aldi Farmhouse Yogurt or Silician Lemon Yogurt
Garnish:
2 Passion Fruits, pulp removed
12 Fresh Raspberries
1 Lime, zested
Method
Heat up the grill.
Gently pierce each meringue on a thin skewer and toast over the grill until lightly browned on the edges. Remove from heat and set aside.
Peel and slice the pineapple and mangoes into ½ inch thick pieces.
In a small bowl, whisk together the rum and sugar. Place the pineapple and mango in the bowl and toss to coat. Allow to sit for at least 30 minutes to marinate.
Place the fruit on the grill and cook until marked, turning as necessary, brush the fruit often with the rum. Once cooked, remove from heat and cut into diced sized pieces and place the fruit back into the rum mixture.
Next, mix the lemon curd yoghurt until well incorporated.
In a small bowl, place 1 tbsp of the raspberry jam and gently warm it up in a cast iron pan over indirect heat on the grill. Once warmed through, pass the jam through a fine sieve to remove the seeds. Reserve the jam in a bowl and set aside.
Place a spoonful of jam in the centre of the plate and make a swish with the jam using the back of the spoon. Place the toasted meringue on the swish and spoon the yogurt into the centre of the meringue. Then top the yogurt with a dollop of raspberry jam. Top with diced pineapple and mango.
Finish by drizzling a spoonful of passion fruit pulp over the meringue and fruit.
Garnish with fresh raspberries freshly grated lime zest. Serve immediately.