Nectarines grilled in sweet marinade. Serve with rocket, goat's cheese and walnuts.
Grilled Nectarine Salad with Goats Cheese by Judy Joo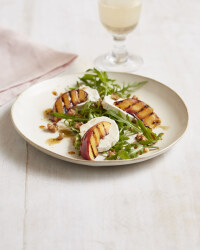 Recipe Information
Ingredients
90g rocket leaves
¼ cup walnuts, toasted and crushed
1 log goats cheese, cut into 12 slices
2 ripe nectarines, pitted, and cut into 8ths
Dressing:
1 tbsp maple syrup
2 tbsp balsamic vinegar
3 tbsp extra virgin olive oil
Salt and pepper to taste
Method
First, make the dressing. In a small bowl, whisk together all of the dressing ingredients until well incorporated. Set aside.
Lightly brush the cut sides of the nectarines with oil, and place on the grill.
Grill until marked and slightly softened, but still firm.
Divide the rocket among 4 plates and do the same with the nectarine pieces. Place 3 slices of goats cheese on each plate and scatter with the walnuts.
Drizzle with the balsamic dressing and serve.
Tip: use unflavoured dental floss to cut the goats cheese. It cuts cleaner than a knife and keeps the attractive round shape.