A summery slaw with grilled pineapple wedges and a refreshing lemon and lime dressing.
Grilled Pineapple Coleslaw with Citrus Dressing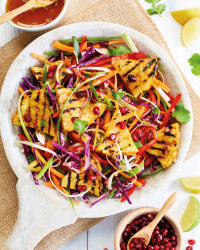 Recipe Information
Ingredients
½ Pineapple
3 Spring Onions
150g Carrots, peeled
150g Red Cabbage
1 Red Pointed Pepper
80g pack Pomegranate Seeds
Juice of 1 Lemon
Juice of 1 Lime
80ml Olive Oil
1 tsp Dijon Mustard
Sea Salt and Black Pepper
1 tsp Oregano
½ tsp Paprika
Method
Slice the pineapple and grill, griddle or barbecue each side for 5 minutes.
Allow to cool then cut into wedges.
Wipe and trim the spring onions and thinly slice.
Thinly shred the red cabbage.
Cut the carrots into thin strips.
Cut the red pepper into thin strips, discarding any seeds.
Put all of the above into a serving bowl along with the pomegranate seeds.
Whisk the lemon and lime juice with the olive oil along with the mustard, paprika and oregano and season with some salt and pepper.
Drizzle over the slaw and toss.