Sausage skewers served with a tasty homemade Romesco sauce.
Grilled Sausage Platter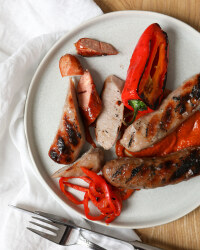 Recipe Information
Ingredients
1 Scotch beef sausage
1 Chipolata sausage
1 Chicken sausage
1 Pork sausage
150ml Romesco Sauce (see below)
For the Romesco sauce:
4 Large red peppers
2 Garlic cloves
150g Ground almonds
100g Sun-dried tomatoes in oil
100ml Extra virgin olive oil
20ml Apple cider vinegar
1 tbsp Smoked paprika
1 tsp Cayenne pepper
1 tsp Sea salt
Method
Place your sausages onto some skewers. Ensuring they are nice and tight. Grill your sausages on your BBQ.
For the Romesco sauce:
Place the red peppers on a heavy baking tray, then carefully char them all over, using a blowtorch if you have one, or the flame on a gas hob. Alternatively, place them under a very hot grill.
Transfer the charred peppers to a bowl and cover with cling film. Leave for 10 minutes so they steam while cooling, softening the skins.
Meanwhile, peel and grate the garlic. After 10 minutes, use your fingers or a tea towel to slide the skins off the charred peppers, but don't worry if there's little bits left as this will lend the sauce an authentic grilled flavour. Remove all the seeds, then put the prepared peppers and garlic into a food processor.
Add the remaining ingredients to the food processor and blend for 4-5 minutes until the mixture is smooth.
Pour the sauce over the sausages as desired, or into a separate pot for a dipping sauce.