Salmon in pineapple bark served with rice infused with an array of Far Eastern flavours.
Grilled Teriyaki Salmon in Pineapple Bark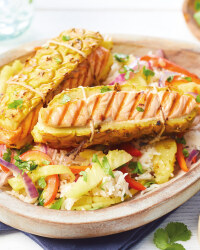 Recipe Information
Ingredients
2 Specially Selected Scottish Salmon Fillets
1 Pineapple
Juice of 1 Lime
2 Garlic Cloves
120g sachet Chow Mein Sauce
1 Red Pointed Pepper
15g Fresh Ginger, peeled
1 Green Finger Chilli
1 Red Onion
400g Basmati Rice
10g Fresh Coriander, chopped
50ml Rapeseed Oil
Method
Marinate the salmon fillets in the chow mein sauce and lime juice for 30 minutes.
Slice off the top of the pineapple, then cut it into quarters, lengthways.
Scoop out the flesh, creating 4 boat-shaped pieces of bark and cut each in half, lengthways.
Place a salmon fillet between 2 pieces of bark, like a sandwich, and tie with string.
Do the same with the others.
Retain the marinade for the rice.
Either cook on a barbecue for 25 minutes over an indirect heat, turning as you cook, or cook in a pre-heated oven 200°C/Gas Mark 6 for 20 minutes.
Meanwhile, cook the rice as per instructions on the pack.
Peel the garlic and mince.
Peel the onion and slice.
Slice the red pepper into strips, discarding the seeds.
Finely chop the chilli.
Grate the ginger.
Slice up the pineapple flesh.
In a wok, fry the garlic, onions and pepper in the oil for 5 minutes.
Add the pineapple, ginger and chilli and cook for another 5 minutes.
Add the rice and heat through, along with any left-over marinade from the salmon.
Finally, add the chopped coriander and serve alongside the warm salmon.