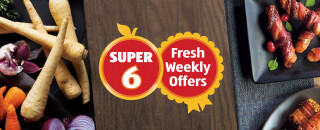 Fresh Offers Every Week
Thanks to our amazing range of fresh fruit, vegetables and meat, we were recently named Fresh Produce Retailer of the Year. And to make sure more people can enjoy these delicious products, we select some of the best every week and offer them at an even more amazing price than usual. Take a look what's in store this Christmas season.
Super 6 fruit and veg.
Look out for award-winning fresh fruit and veg in our weekly Super 6 offers. As Fresh Produce Retailer of the Year, we have all the amazing produce you need for your Christmas meals and recipes, all at great value.

Fresh meat & fish
Our Fresh Weekly Offers are full of the delicious, high quality meats that made us Meat and Fish Retailer of the Year at this year's Supermeat and Fish awards. Don't miss out on all the amazing products and their great value this Christmas.
The people behind the produce
Aldi is committed to championing our suppliers. Here are just some of the wonderful companies that work hard to bring us some of the finest food, all year round.