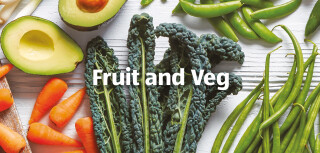 Fresh Fruit and Vegetables
We all know how great fruit and vegetables are for your health, so you might like to know that we stock a huge range of top quality produce. From potatoes and broccoli, to seasonal super foods, ginger, pineapples, avocados and more, stock up on fresh fruit and vegetables – all at amazing prices.
Fresh Weekly Offers
Our Fresh Weekly Offers make healthier meals more affordable for our customers. Our team hand-pick delicious meat and fish dishes, making sure to include an exciting range the whole family will love, and sell them at a price more amazing than usual.
Check out what's on offer this week, in store and online.
We offer you fresh fruit and veg just the way you like it, with the added convenience of bagged, ready-prepared or chilled. So, whether you're looking for a family pack of apples, a bulb of garlic or even a pot of cauliflower rice, you'll find it right here at Aldi.
The people behind the produce
Aldi is committed to championing our suppliers. Here are just three of the wonderful companies that work hard to bring us some of the finest food, all year round.
Our fresh fruit and veg recipes will inspire you to be a bit more adventurous with meal times.