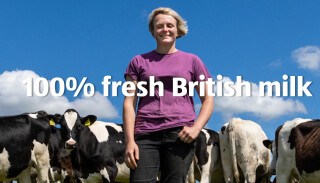 Meet the Supplier - Sally Hall
Milk is a staple of every fridge, and at Aldi ours is supplied fresh every day from British farms. We are proud to work with Arla Foods, the farmer owned cooperative, where profits go back to the farmers.
In 2018, we set up the Aldi Dairy Farm Partnership, working closely with a number of Arla farmers who share our values on quality, animal welfare, the environment and community. Together we're helping to share best practice and secure a sustainable future for British dairy farming.
Sally is one of those farmers….
A family business
Like every one of her 700 strong herd, Sally Hall was born and raised in West Yorkshire. From humble beginnings, when Sally's grandparents began the farm with a single cow back in 1960, the Hall family has taken a holistic approach to creating a thriving, sustainable business.
From growing the crops that sustain their herd (using organic fertiliser supplied by the cows!) to delivering and raising new calves, they work with nature to deliver every part of the process as sustainably as possible, with minimum reliance on pesticides and other chemicals, virtually no waste and above all a commitment to the welfare of their herd.
Passionate about dairy
For Sally, who has been working with the cows for as long as she can remember, caring for the animals is a way of life.
"As soon as we could walk, we were feeding the calves and learning how to work with the animals. I've just never wanted to do anything different. At the end of the day I'm living in a beautiful part of the country, surrounded by a bunch of animals I really care about, working with great people and producing a product that is one of the healthiest things you can drink."