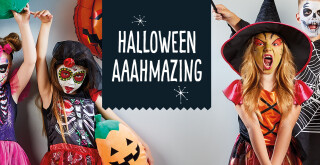 Welcome to the house of horrors
We've got some great spine-chilling ideas to help to set a super scary mood for Halloween - from Graveyard Games to demon décor and creepy face paints, they'll make your party even more of a scream!
Graveyard Games!
Pumpkins at the ready! Try a few of these spooky game ideas to keep the kids entertained this Halloween, like bobbing for apples, pin the tail on the monster and wrap the mummy.
Share your best scare!
Proud of your Halloween masterpiece? Be sure to give us a tag and share your best decorations, costumes and pumpkin creations with us on our social channels, and give everyone something to scream about!