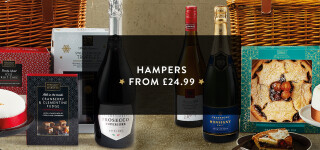 Luxury Christmas Hampers
This Christmas is all boxed up - ALDI's Luxury Christmas Hampers are full of amazing hand-picked products to fill your festive season with treats, cakes, and drinks. These also make great Christmas Gift hampers or a lovely idea for sharing with friends at work or elsewhere.
Our Christmas Food Hampers are available exclusively online to pre-order but hurry while stocks last!
Exquisite Hamper
A stunning gift for those with a taste for the finer things. Let them indulge in some real festive luxury with the very best of our Specially Selected Exquisite range, from fizz and fine wine to Exquisite Mince Pies and a feast of gourmet treats.
Specially Selected Treats Hamper
A fabulous selection of sweet indulgences, including Moser Roth Marc de Champagne Truffles and Specially Selected Cranberry & Clementine Fudge. Enjoy these festive favourites with a glass of our superb South Australia Shiraz.
Festive Delights Hamper
Delight your family and friends with a beautifully packaged Christmas Hamper of festive treats delivered straight to their door. Includes a chocolate bombe dessert and luxury fudge.
Christmas Feast Hamper
Filled with everything they need to have a fabulous Christmas feast, including perfect puds, sensational salted caramel hot chocolate and hand-baked crackers. The final touch? Our Prosecco Spumante DOCG.
Specially Selected Luxury Hamper
Treat loved ones to the taste of true luxury. We've hand-picked the very best from luxuriously festive fudge and award-winning wine, to perfectly crumbly hand-made British crackers and the finest Florentines.
No 1 Lime, Basil and Mandarin Pamper Hamper
Relax this Christmas with our lime, basil and mandarin scented pamper hamper. Along with a fine bottle of fizz, each collection comes with a stylish glass candle, room diffuser, lotion and hand & body wash.
No 3 Pomegranate Pamper Hamper
A luxurious collection of pomegranate scented products, including a glass candle, room diffuser, lotion and hand & body wash. All this and a bottle of Prosecco too – just what you need to pamper yourself this Christmas.
Let's get festive
From our award winning seasonal wines to our stylish wine advent calendar, there's plenty of festive inspiration online at Aldi. Or simply head into your local store to what you can find in the run up to the big event.