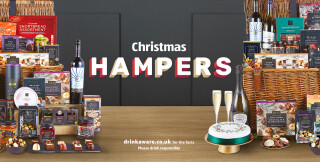 Luxury Christmas gifts
When it comes to finding the perfect Christmas gift for friends and family, there's a reason why people love our luxury hampers so much. They're filled with the finest festive treats, snacks and drinks, most of which come from our award-winning Specially Selected range. And it's not one hamper suits all. We have 7 to choose from, including Afternoon Tea, Vegan and Chocolate Celebration. So, select your favourite and pre-order today before they're gone!
Christmas Favourites Hamper
A beautiful selection of Christmas favourites to treat the ones you love. You'll find Specially Selected Florentines, an Iced Fruit Cake Bar and an Argentinian Malbec, with Moser Roth Salted Caramel Truffles and Strawberry & Champagne Preserve too.
The Vegan Hamper
This fabulous gourmet collection contains Specially Selected Tea Bags, Salted Caramel Truffles, Dark Chocolate Bars and more, and they're all 100% vegan and 100% amazing. There's even a vegan Chilean Merlot to enjoy as well. Cheers!
The Chocolate Celebration Hamper
Chocoholics rejoice! Your dream Christmas hamper is here, and it's bursting with the finest chocolate creations from our expert chocolatiers. Enjoy Creams, Florentines, Champagne Truffles and more. Pre-order yours today!
The Afternoon Treats Hamper
A fantastic hamper filled with traditional Afternoon Tea favourites. Shortbreads, Biscuit Tubes, Gourmet Marmalade and English Breakfast Tea Bags are just some of these amazing treats. Best enjoyed with friends and conversation. Pre-order yours now.
Luxury Collection Hamper
Bring a taste of luxury to the people you love with this superb Christmas collection. From Clotted Cream Fudge and Stollen Bites, to New Zealand Sauvignon Blanc and lavish Chutneys, it's the perfect gift for those who appreciate the finer flavours.
Christmas Feast Hamper
An amazing Christmas, all wrapped up and ready to gift. That's what you get with this deluxe hamper and the incredible range of Specially Selected treats and cakes inside, along with the magnificent Colombian Coffee and DOCG Prosecco. Pre-order today.
The Ultimate Celebration Hamper
No gift delivers a more marvellous, more luxurious Christmas than this. With Specially Selected Chocolates, nibbles, and desserts included, and the finest bottles of wine and fizz, your friends and family will be amazed by this hamper. Pre-order now.