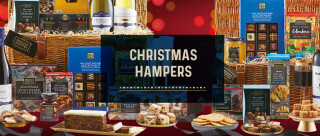 The perfect Christmas gift
Bring the best of the festive season to your door with our amazing Christmas hampers. Each collection includes the finest hand-picked treats, cakes and alcohol from our ranges. Share them with your friends and family or pick out the perfect gift to send.
Exquisite Hamper
The Christmas hamper for those who enjoy the finer tastes in life. With items such as Specially Selected Exquisite Florentines and a bottle of Vintage Champagne, they'll be amazed by the luxurious collection of gourmet treats, fine wines and fizz.
Christmas Feast Hamper
Your amazing Christmas feast is waiting inside this beautiful hamper. Start with the savoury festive bites and crackers before you move onto the rich selection of sweets and treats. Finish with a Colombian coffee or a glass of Prosecco.
Specially Selected Luxury Hamper
Indulge yourself in luxury this Christmas. Our deluxe range of festive treats are sure to excite and delight your taste buds, and the spectacular selection of wines and fizz will certainly impress every guest.
Pamper Hamper
Give someone the perfect pamper gift this festive season with our fantastic Beauty Hamper. Items include moisturiser, toner and hot cloth cleansers, along with a luxury collection candle, a box of chocolates and a bottle of Prosecco. Sit back and relax.
Specially Selected Treats Hamper
Treat someone you love to a Christmas hamper filled with the finest festive treats, including sweet cut comb Acacia honey and a Moser Roth chocolate assortment. There's also a bottle of delicious Argentinian Malbec to enjoy too.
Festive Delights Hamper
This beautifully packaged Christmas hamper is sure to delight both friends and family. Inside they'll find a hand-picked selection of sweet and savoury items, including a Salted Caramel bombe and the finest Single Origin Colombian Coffee.
Christmas Favourites Hamper
A perfect selection of Christmas treats to gift. The hamper is filled with Specially Selected Fudge, Florentines and Nougat, topped off with Moser Roth Fruit Creams and a bottle of Exquisite Collection Australian Shiraz.