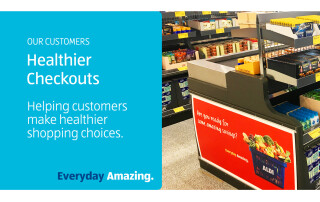 Encouraging healthier food choices for customers
We want our customers to live healthy lives and enjoy better quality foods as part of a balanced diet. Last minute purchases are frequent at the tills, so it is important for us to offer healthier products, such as dried fruits, nuts or nutritious snacks. All our food based products are tested through our 'Healthier Tills Criteria' to ensure we provide only healthier options.
Aldi Healthier Checkout Criteria
We first created our own Aldi Healthier Checkout Criteria in 2015 to help customer make healthier choices. We refreshed this criteria in 2019 to make sure we still only allow nutritious products at our tills.