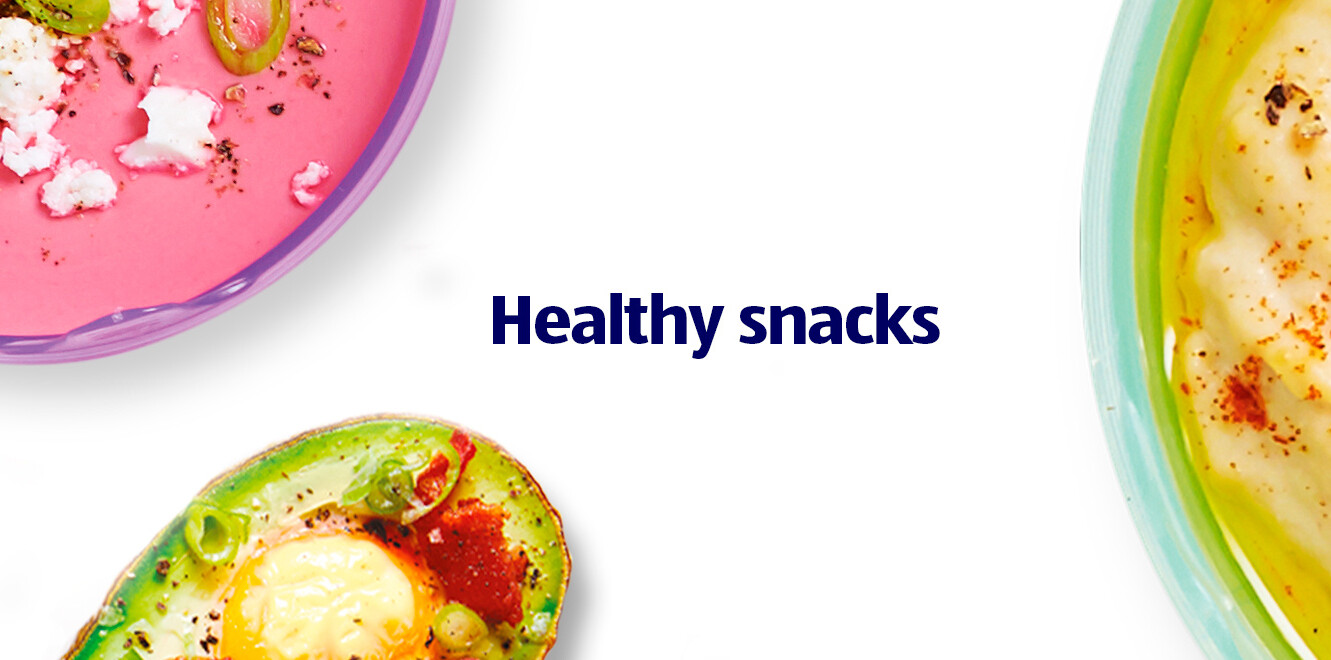 Snack Smart
The best healthy snacks are those that are easy to make and taste great! Snack smarter with our nutrient-packed healthy snack ideas. We've got recipes to suit all diets and taste buds, from sweet to savoury.
Baked Avocado
Preheat the grill and line a baking tray with tin foil. Carefully slice the avocado in half and scoop out the stone.
Next, crack 1 small egg into the middle, replacing the stone and sprinkle chives over.
If you prefer add a sprinkling of chopped smoked salmon or bacon. Sprinkle chives and season to taste.
Place on the baking tray and place in the grill for 5-6 minutes until the egg looks cooked.
Asian Spiced Mangetout
Steam the mangetout for 2-5 minutes until tender.
Take off the heat and transfer into a bowl.
Add the soy sauce, salt and lime.
Once cooled transfer to your snack pot.
Winter Warming Seed Mix

Leftover Falafel Balls

Fresh Fruit
Winter Warming Seed Mix
2 bags of Aldi's ready to eat Nut Mix • ½ tsp Nutmeg • ½ tsp Cinnamon • 1 tsp Honey • 1 tsp Coconut oil
Pre-heat the oven to 180°C/302°F.
Mix all the ingredients together in a bowl and sprinkle on a baking tray. Cook for 5 minutes so the spices infuse into the nut mix. Store in your snack box ready to consume on the go!
Leftover Falafel Balls
2 tbsp Olive Oil • 1 small Onion, finely chopped • 1 Garlic Clove, crushed • 1 tin Chickpeas • 2 tsp Ground Cumin • 1 tsp Mixed Herbs • 1 Lemon, zest grated • Salt and Black Pepper • 1 Egg, beaten • Add in any leftover raw Carrots, Courgettes or Greens
Pre-heat the oven to 180°C/302°F. Add a layer of tin foil to a baking tray.
Add all the ingredients into a blender or food processor and pulse until a soft crumb forms. Add a small handful into the palm of your hand and mould into a ball or small oval. Add to a baking tray and cook through for 10 minutes. Alternatively fry in coconut oil each side for 4-5 minutes.
Fresh Fruit
There is nothing simpler than preparing fresh fruit as a healthy snack to have on the go. To keep it extra -fresh squeeze a little lemon juice over. The acidity slows down the browning process of the fruit.
Our favourites
It's hard to know where to begin when it comes to eating healthily. But these 3 recipes are the ones we'd recommend first. They're nutritious, delicious and cover all your main meal times.