Make a batch of 20 delicious herb and cheese biscuits with cheddar.
Herb and Cheese Biscuits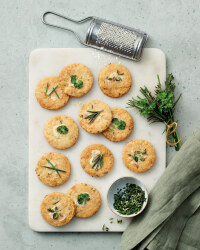 Recipe Information
Ingredients
170g Salted Butter, at room temperature
50g Mature Cheddar Cheese
25g Parmigiano Cheese
220g Plain Flour
50g Ground Almonds
5g Fresh Chopped Herbs
Black Pepper
Extra Herbs, to garnish
Method
Pre-heat the oven to 180°C/350°F/Gas Mark 4.
Finely grate the cheddar and the Parmigiano cheese. In a bowl, add the flour and the ground almonds, season with some black pepper and mix well. Chop the butter into small chunks and rub into the flour mixture. Add the chopped herbs and the grated cheese and rub in with your fingers until you achieve a soft dough.
Roll out on a floured surface to the thickness of a pound coin. Cut into shapes with your favourite cutter. Carefully put onto greased baking sheets and cook for 12-15 minutes.
After baking, decorate with small sprigs of herbs whilst still warm.
Allow to cool then serve. Delicious on their own or serve with a cheese board.