This irresistibly sweet ice cream recipe is perfect for any sweet-toothed chef.
Homemade Fudge & Raisin Ice Cream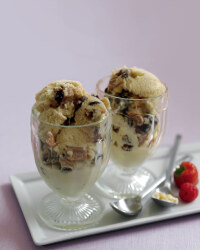 Recipe Information
Ingredients
35mls brandy
75g raisins
125g caster sugar
75ml cold water
4 medium egg yolks
1 tub double cream very lightly whipped
1x 150g pack fudge, broken up with your fingers lightly
Method
The day before place the brandy and raisins together and leave to soak.
Place the caster sugar and water in a pan and bring to the boil.
Once boiling, leave to rapidly boil for 5 minutes, bang on, no more, no less.
Place the egg yolks into a mixing bowl, and once the sugar and water have been boiling for 2 minutes, set the electric whisk to medium speed.
At 5 minutes, take the sugar and water off the stove, turn the electric whisk up to full speed, and pour onto the egg yolks.
Whisk until thick, foamy and cold.
Strain off the raisins and add the brandy to the cream and whip until thick and creamy.
Remove the egg yolk mixture from the electric whisk, scrape off the whisk.
Add the chopped fudge and the soaked raisins.
Spoon in the lightly whipped cream, then, freeze overnight.
Serve scooped out into glasses and serve.
You may need to leave for 5-10 minutes to soften slightly, before serving.