Hot & Spicy Sausage Bagels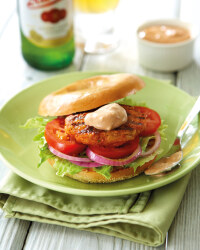 Recipe Information
Ingredients
1 x 681g pack Ashfield Farm Everyday sausages
1 x sachet Bramwells hot and spicy seasoning
70g Bramwells mayonnaise
30g Bramwells BBQ sauce
1 x packet Sunnyhills plain Bagels
¼ Iceberg lettuce
4 x standard tomatoes
1 x red onion
Staroslav Lagers (optional)
Method
With a sharp knife, cut down the sides of the sausages and remove the meat, discard the skins.

Make 4 patties with the meat – this will be sticky so if you want use a little flour on your hands.

Roll them into balls and flatten them into burger shapes, dip both sides in the seasoning.

Cook them on the BBQ or fry them in a little sunflower oil.

Cook for about 4/5 minutes on each side, until firm to the touch.

Lightly toast the Bagels and mix the BBQ sauce with the mayo.

Split the Bagels, divide the mayo and the salad between the bagels, top with the sausage patties.

Great with 4 x bottles 500ml Staroslav Lagers.