Traditional American Apple Betty made with leftover hot cross bun crumbs.
Hot Cross Bun Apple Betty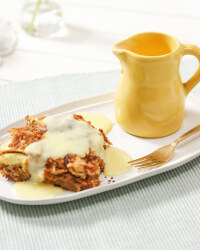 Recipe Information
Ingredients
1 x pack 4 British Bramley Apples
200g Hot Cross Bun breadcrumbs
50g unsalted butter
130g caster sugar – plus a little extra to sprinkle
1 x lemon
Method
1.
Melt the butter in a wok add the breadcrumbs and cook till slightly crisp
3.
Put the lemon and the caster sugar into a large bowl
4.
Peel, core and quarter the apples and then slice thinly
5.
Add the apple slices to the sugar and lemon and gently mix to coat the apples
6.
In a deep oven proof dish put in a third of the breadcrumbs
7.
Put half of the apples on top
8.
Then top these with another third of the breadcrumbs
9.
Put the remaining apple slices on top
10.
Then sprinkle over the last of the breadcrumbs
11.
Sprinkle with a little caster sugar
12.
Cover with foil and bake in the oven for 60 minutes
13.
Remove the foil and bake for a further 5 minutes to crisp the top
14.
Great served hot or cold with cream, custard or vanilla ice cream