Slice, toast and serve with butter for breakfast or afternoon tea.
Hot Cross Bun Loaf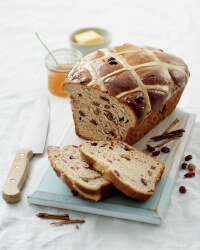 Recipe Information
Ingredients
450g Self-raising Flour
1 x 7g sachet Yeast
125g Caster Sugar
250ml of warm Skimmed Milk
60g melted Butter
1 x large Egg Yolk
2 x tsp Cinnamon
160g Sultanas
1 x 1lb Loaf Tin
Cross and glaze -
30g Plain Flour
25ml Water
1 x tsp Apricot Jam
1 tsp boiling Water
Method
Grease the loaf tin with some olive oil.
Put the warm milk in a bowl with 2 tsp of the caster sugar and sprinkle over the yeast – set aside for 5 minutes in a warm place until the mixture starts to bubble.
Put the flour, cinnamon and remaing sugar in a large bowl and mix with a wooden spoon.
Add the beaten egg yolk and melted butter to the milk and mix. Add this mixture to the flour and mix until smooth. Then, add the sultanas and mix again.
Turn the dough out onto a floured surface. Knead the dough for 5 mins or until the dough is smooth and elastic.
Place the dough in the loaf tin and cover with a tea towel. Put the loaf in a warm place for 70 mins until the dough has risen.
Preheat the oven to 350f/180c/ gas 4.
Make the patten on top of the loaf by mixing the flour with the water and piping criss crosses on the top of the loaf.
Bake in the oven for 40 mins.
While baking, make the glaze by mixing the apricot jam and water together.
Once the loaf is baked and golden, brush the glaze over the top. Allow the loaf to cool before removing from the tin.
Slice, toast and serve with butter.