Baked chicken breast stuffed with hot cross bun crumbs and wrapped in pancetta.
Hot Cross Bun Stuffed Chicken Breasts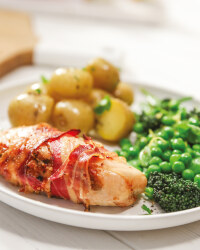 Recipe Information
Ingredients
4 x chicken breasts
1 x small red onion
1 x 80g pack Pancetta strips
80g Hot Cross Bun Breadcrumbs
40g butter
Method
Preheat the oven to 200°C/400°F/gas mark 6
1.
Peel and finely chop the red onion
2.
Thinly slice the pancetta
3.
Put 20g butter into a small saucepan, add the onion and pancetta and cook for a few minutes, add the breadcrumbs and mix well
4.
Put the chicken breasts onto a baking tray, with a sharp knife make a cut into the side of each breast, with your fingers slightly pull the cut open to make a pocket
5.
Divide the stuffing between the breasts
6.
Wrap a slice of pancetta around each breast over the stuffing
7.
Smear the remaining butter over the breasts and bake in the oven for 20 minutes
8.
Serve with steamed potatoes and spring greens