Sweet apricot swirls topped with almonds.
Inside-Out Apricot Almond Buns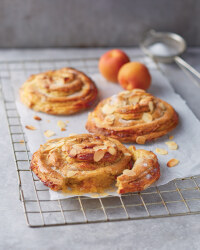 Recipe Information
Ingredients
For the buns
800g Plain Flour
1 heaped tsp Bicarbonate of Soda
600ml Semi Skimmed Milk
70g Unsalted Butter
50g Caster Sugar
For the filling
100g Ground Almonds
40g Flaked Almonds, plus some extra to sprinkle
60g Caster Sugar
200g Apricot Conserve
2 Large Egg Yolks
Egg wash
1 Medium Egg, beaten
1 tbsp Water
Method
Pre-heat the oven to 180°C/350°F/Gas Mark 4.
Put the flour, bicarbonate of soda and sugar into a large mixing bowl and mix well with a whisk.
Melt the butter and add to the milk.
Make a well in the centre of the flour mixture.
Add the milk mixture and with your hands to mix until it comes together.
Lightly dust a work surface with the flour.
Turn out the dough and kneed for a few minutes until smooth.
Divide the dough into 12 equal pieces – let them rest while you make the filling.
In a bowl, slightly break up the flaked almonds, then add the rest of the filling ingredients and mix well.
To shape the buns, roll out each piece into a rectangle about 22cm.
Thinly spread some of the filling over the dough then roll it up lengthways like a sausage.
Cut in half lengthways, leaving it attached at one end, so it kind of looks like a long pair of trousers.
Split the trousers apart so you get a long piece of dough, like a rope.
Curl the rope like a snail to make the buns, with all the lines of dough and filling facing up.
Place them onto a baking sheet.
Brush a little egg wash over the buns, sprinkle with a few flaked almonds and bake in the oven for 10-12 minutes, until golden brown.