This rustic Mediterranean classic is a deliciously hearty meal choice for the family.
Italian Bake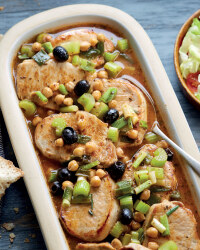 Recipe Information
Ingredients
2 x packs British Pork Loin Medallions
1 x 400g can Chickpeas
3 x sticks Celery – approx 300g
1 x bunch Spring Onions
2 x teaspoons Cucina Tomato Purée
1 x teaspoon Cucina Green Pesto
1 x teaspoon Stonemill Paprika
50g drained Solesta Black Pitted Olives
1 x Quixo Chicken Stock Cube
300ml Boiling Water
1 x Sunnyhills Ready to Bake Ciabatta
1 x Iceberg Lettuce
300g Cherry Tomatoes
½ Cucumber
A little Solesta Olive Oil
Method
Preheat the oven to 200˚C/400˚F/Gas Mark 7
In a large frying pan sauté the pork medallions on both sides until browned. Transfer to a shallow ovenproof dish.
Trim the celery and spring onions and chop into small pieces.
Fry them in the same pan with a little more oil until just coloured. Add the pesto, tomato purée, olives, crumbled stock cube, paprika and the drained chickpeas. Pour over the boiling water, season with some black pepper and bring to the boil stirring often.
Pour this over the pork medallions.
Cover with some foil and bake in the oven for 30 minutes.
10 minutes before the end of the cooking time – put the ciabatta loaf in to cook.
Meanwhile – chop the tomatoes in half, peel and slice the cucumber and shred the lettuce toss them together and serve alongside the pork and bread.