Italian Classics Gift Pack
Product Ref: 072395184038800
Product Information
By law we cannot sell this product to anyone under 18
The Cortese grape is traditionally grown in the area around the town of Gavi, where it gives dry, lemony white wines. This version is fermented in stainless steel tanks to give a clean and elegant flavour. It's ideal as an aperitif or with seafood.
The Nebbiolo Langhe is a smooth and complex wine with notes of cherry, tobacco and spice. It's a perfect match with roasted game or beef.
Please note, this item is available as a single product only. It's not part of our 'create your own case' offering, so you don't need to pick a minimum of 6 bottles to purchase this item.
ABV
Gavi DOCG - 12%
Langhe Nebbiolo - 14%
Bottle Size
2 x 75cl
Closure Type
Cork
Country
Italy
Grape
Cortese & Nebbiolo
Region
Gavi & Piomonte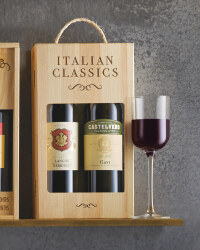 Allergy:

Contains Sulphites

Food Matching:

The Gavi DOCG is perfect as an aperitif or with seafood, whilst the Nebbiolo Langhe best suits roasted game or beef

Package Type:

Gift Box

Residual Sugar:

Gavi - 2g/l, Nebbiolo Langhe - 1.6g/l

Serving Advice:

Gavi - 10-12 degrees C, Nebbiolo Langhe - 15-18 degrees C

Taste:

The Gavi DOCG is clean and elegant and a great match with seafood, whilst the the Nebbiolo Langhe is smooth and complex with notes of cherry and tobacco

Type:

Wine