A simple Chinese classic recipe provided by Jane McHarg, General Manager at Dunbia Ltd.
Jane McHarg's Easy Sweet & Sour Pork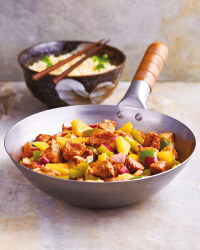 Recipe Information
Ingredients
1 x pack Scottish Diced Pork
140g Pineapple Chunks
1 x Green Pepper
1 x medium Red Onion
35g Demerara Sugar
30ml White Wine Vinegar
35ml Soy Sauce
20ml Lemon Juice
35ml Scottish Rapeseed Oil
15g Plain Flour
Salt and White Pepper
Method
Put the diced pork into a bowl, sprinkle over the flour and season with salt and pepper.
Cut the pepper in half, removing any seeds and white pith and cut into small chunks.
Peel the onion and cut into small chunks.
In a large frying pan or wok, heat the oil until hot then add the pork and sauté until browned.
Add the chopped pepper and onion and cook for 2 minutes.
Add the pineapple chunks with the juice, followed by the soy sauce, vinegar, sugar and lemon juice. Mix well and cover and simmer for 15 minutes.
Great served with rice.