A light, zesty, citrussy dessert.
Jane Power's Lemon Dessert Pudding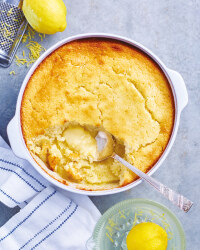 Recipe Information
Ingredients
Zest and Juice of 1 Lemon
80ml Lemon Juice
50g Scottish Unsalted Butter
50g Plain Flour
250ml Scottish Semi Skimmed Milk
200g Caster Sugar
3 x Scottish Large Eggs
1 tsp Vanilla Essence
Method
Pre-heat the oven to 190°C/375°F/Gas Mark 5.
Separate the eggs and then grate and juice the lemon.
In a bowl, add together the grated lemon rind and both the lemon juices, vanilla essence and the caster sugar and mix well. In a food processor, blend the butter and the lemon mix.
Now add the egg yolks and the flour, followed by the milk until you have a smooth batter.
Whisk the egg whites in a large bowl until they are just firm, fold in the lemon batter and pour the mixture into a baking dish.
Put the baking dish into a roasting tin half-full of hot water, then bake in the oven for 40-45 minutes until browned and slightly wobbly.
Leave to cool, then serve.