Whole chicken marinaded in garlic and chilli flakes with pineapple salsa and roti bread.
Jerk Spatchcock Chicken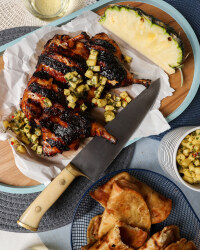 Recipe Information
Ingredients
1 Whole Chicken (Spatchcocked)
1 tsp Sea Salt
1 tsp Freshly Ground Black Pepper
1 tsp All-Purpose Seasoning
1 tsp Dried Thyme
1 tsp Garlic Powder
½ tsp Onion Powder
¼ tsp Cinnamon
¼ tsp Cumin
1 tsp dried Red Chilli Flakes
250g Barbeque Sauce
25ml White Rum
For the Pineapple salsa:
250g Fresh Pineapple, peeled, cored and cut into ½cm dice
½ Red Chilli, finely diced
1 Lime, juice only
2 tbsp Coriander, finely chopped fresh
1 tbsp Brown Sugar
Salt to taste
For the Roti:
250g Plain Flour
2 tsp Caster Sugar
½ tsp Salt
½ tsp Baking Powder
120g Butter Unsalted
2 tbsp Vegetable Oil, plus extra for greasing
Method
To make the marinade for the chicken, season the chicken with the salt, pepper, allspice, thyme, garlic powder and chilli flakes in a large bowl, rubbing to cover the meat completely. Pour over the BBQ sauce and white rum and mix together. Cover and leave to marinate in the fridge for at least 1 hour.
For the pineapple salsa:
Bring the sugar to the boil over a medium heat. Once bubbling remove from heat and toss though your pineapple, chilli, lime juice. Once cooled, add your coriander and season to taste.
For the roti bread:
Put the flour, baking powder and salt in a large bowl. Toss together and make a well in the centre. Pour in 125ml cold water and mix everything together to give a nice soft dough. Knead the dough for 10 minutes by hand or five minutes in a stand mixer fitted with a dough hook and then leave it in a warm place for about 20 minutes.
Divide the roti dough into four equal pieces and shape each one into a ball. Roll one out on a lightly floured work surface until it is as thin as you can get it to give about an 18cm/7in diameter circle. Dust the top with a little more flour. Drizzle one teaspoon of oil into one pan and pop the dough disc in, leaving it to cook for about two minutes on each side. Repeat this step for the other 3 rolls of dough.
BBQ the chicken for 5 mins each side in the centre. Turn regularly. To check that it's cooked through, pierce with a knife between the thighs and breastbone: the flesh should be white and firm.
Remove from the heat and leave to rest, for 10-15 mins. Cut into portions and serve alongside the roti and pineapple salsa.