This mouthwatering salad is delicious, perfect for a healthy summer dinner.
Kiwi and Smoked Mackerel Couscous Salad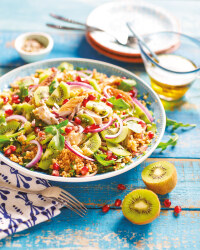 Recipe Information
Ingredients
4 Kiwis
200g pack The Fishmonger Smoked Mackerel Fillets
2 x 100g packs Worldwide Foods Sundried Tomato & Garlic Couscous
8g Fresh Parsley
70g Wild Rocket
5 Celery Sticks
80g pack Pomegranate Seeds
50ml Specially Selected Olive Oil
Juice of 1 lime
Black Pepper
½ tsp Dijon Mustard
Red Onion
Method
Prepare the couscous as directed on the pack.
Peel, half and thinly slice the red onions.
Thinly slice the celery and finely chop the parsley.
Peel the kiwi fruit and cut into chunks.
Skin the mackerel and flake the flesh.
Put all the above into a salad bowl and gently mix.
Mix the olive oil, lime juice and mustard together, season with some black pepper – whisk well.
Pour this over the salad and toss.