Healthy goggle-eyed green monsters that are bound to get them giggling.
Kiwi Monsters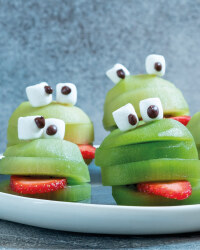 Recipe Information
Ingredients
6 Kiwi Fruit
2 Strawberries
Mini Marshmallows
Chocolate Chips
Cocktail Sticks
Method
Peel the kiwi fruit, slice into 3 or 4 pieces and reassemble.
Slice the strawberries to make the tongue.
For the eyes, wet the chocolate chips, stick them onto the marshmallows and hold them in place with a cocktail stick.