Lamb infused with sweet and sour flavours, ready for the BBQ! Ideal with Kimchi!
Korean Bulgogi Lamb Skewers with Homemade Kimchi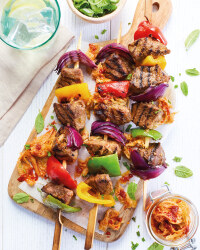 Recipe Information
Ingredients
400g Leg Lamb Steaks
1 pack 3 Mixed Peppers, chopped into chunks
2 Red Onions, cut into wedges
For the Kimchi Marinade
3 Cloves of Garlic, minced
1 Green Finger Chilli, finely chopped
15g Fresh Ginger, peeled
1 small Red Onion, diced
2 tsp Paprika
120ml Olive Oil
25g Demerara Sugar Sea Salt and Black Pepper
4 Metal or Bamboo Skewers
Method
Make the marinade by mixing the garlic, chilli, ginger and onion together in a large bowl along with the olive oil, vinegar, paprika and sugar, then season with salt and pepper.
Cut the lamb into chunks and marinate for at least 60 minutes, but overnight is best.
Divide the meat, peppers and onions between the skewers.
Barbecue or grill for 15 minutes, turning regularly.
Drizzle over any left-over marinade, then serve immediately, alongside some kimchi.