Cream cheese garlic piped into bread rolls and dipped in garlic butter before serving.
Korean Cream Cheese Garlic Bread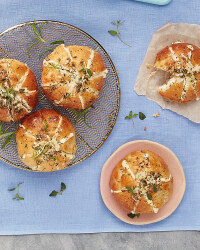 Recipe Information
Ingredients
For the dough
450g Strong White Flour
7g Sachet Dried Yeast
1 tbs Caster Sugar
1 tsp Salt
50g Butter, melted
290ml Milk, luke warm
For the filling
250g Cream Cheese
35g Caster Sugar
For the garlic butter
100g Butter, melted gently
3 Garlic Cloves, peeled and finely chopped
1 Egg, beaten
50ml Whole Milk
2 tsp Mixed Herbs
Method
Place the dry ingredients for the bread dough into the bowl of a stand mixer fitted with a dough hook.
Mix the milk and melted butter together and blend in on a slow speed.
Mix for about 5 minutes until a soft, elastic dough forms.
Knead the dough into a ball and place it in a large bowl. Cover the bowl with a damp tea towel and leave in a warm place for about an hour to prove. The dough is ready once it has doubled in size and springs back when it is gently touched.
Knead the dough on a lightly oiled surface to knock out any air bubbles and divide it into 10 portions. Knead into balls and place, spaced out on a greased and lined baking tray. Cover with a damp tea towel and prove in a warm place for about 30 minutes or until the balls are risen and spring back when gently touched.
Pre-heat the oven to 200°C Fan/Gas Mark 7.
Bake the dough balls for 10-15 minutes until golden brown and cooked. Leave to cool. Reduce the heat to 190°C Fan/Gas Mark 6.
Make the cream cheese filling by beating the soft cheese and sugar together.
Spoon into a piping bag or freezer bag and snip a small hole to pipe through.
Mix all the garlic butter ingredients together.
Cut a diagonal cross into each roll to form quarters, but leave the roll intact.
Pipe a length of cream cheese filling along each cut.
Dunk each roll into the garlic butter and spoon it into the cuts.
Place the rolls back onto a greased and lined baking tray and spoon over any excess butter.
Bake for 8-10 minutes.