Succulent lamb chops with crushed potatoes, fresh asparagus and a creamy mushroom sauce.
Lamb Chops with Crushed Potatoes, Asparagus & Mushroom Sauce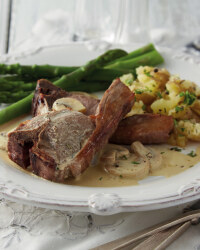 Recipe Information
Ingredients
1kg Baby Potatoes
2 400g British Lamb Chops
2 150g Asparagus
250g Mushrooms, sliced
40g Greenvale Butter
225ml Cowbelle Single Cream
½ Quixo Vegetable Stock Cube
2 tsp Stonemill Parsley
Freshly Ground Salt and Black Pepper
2 tsp Mint, chopped
Method
Halve any large potatoes and then cook in lightly salted water until tender – this will take around 25 minutes.
Season the chops and cook under a medium grill for 10-15 minutes, turning occasionally.
Melt 10g of the butter and gently sauté the mushrooms until tender. Add the cream, crumbled stock cube and parsley. Simmer gently until the cream thickens a little then season to taste.
Cook the asparagus in simmering water for around 5 minutes.
Drain the cooked potatoes, return to the pan and, using a fork, roughly crush them. Stir through the remaining butter, mint and seasoning to taste.
Serve the cooked chops with the potatoes, asparagus and mushroom sauce.