Perfect for the Summer or the Winter this lamb tagine is a great meal to get the best out of your meat.
Lamb Tagine with Pomegranate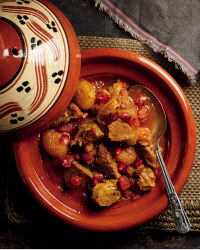 Recipe Information
Ingredients
800g Shoulder of Lamb, boned and rolled (approx.)
2 Onions
3 x 80g packs Pomegranate Seeds (or 2 Pomegranates)
200g The Pantry Dried Apricots
4 Cloves Garlic
1 Quixo Chicken Stock Cube
400g tin Sweet Harvest Chunky Chopped Tomatoes with Herbs
1 heaped tsp each Stonemill Ground Cumin, Cinnamon, Paprika, Chilli and Turmeric
600ml Boiling Water
Salt and Black Pepper
A little Solesta Sunflower Oil
Find your ingredients online on Click & Collect or find your nearest store using our Store Finder.
Method
Chop the lamb into medium-size chunks.
Peel and slice the onions thickly.
Cut the apricots in half.
De-seed the pomegranates if using a whole fruit.
Peel and finely chop the garlic.
In a large saucepan fry the onions and the lamb together with a little oil until browned.
Meanwhile, dissolve the stock cube in the boiling water.
Add the spices to the lamb, mix well and cook for 2-3 minutes.
Add the stock, chopped tomatoes and the apricots, bring to the boil, then turn down to simmer.
Add two thirds of the pomegranate seeds and the chopped garlic, then season with a little salt and plenty of black pepper.
Cover with a lid and simmer for 60 minutes, stirring occasionally.
Check the lamb is tender – if not cook for a further 15 minutes.
Serve sprinkled with the leftover pomegranate seeds – great with couscous.