This classic Moroccan dish, with tender lamb and a medley of vegetables and spices.
Lamb Tagine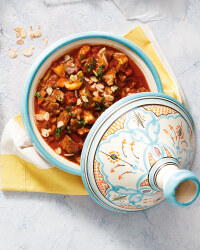 Recipe Information
Ingredients
1kg Lamb Shoulder, cut into chunks
2 x Onions
Juice and grated rind of a Lemon
200g The Pantry Dried Apricots
1 x Quixo Chicken Stock Cube
400ml Boiling Water
300g Carrots
75g Grandessa Pure Set Honey
1 x 500g Bilash Tikka Sauce
1 tsp of each Stonemill Ground Ginger, Cumin and Cinnamon
50g The Pantry Flaked Almonds
A little Solesta Sunflower Oil
Find your ingredients online on Click & Collect or find your nearest store using our Store Finder.
Method
In a large frying pan, brown the lamb in batches in some hot oil then transfer to a large heavy-bottomed saucepan or a tagine.
Peel and chop the onions and add to the lamb.
Cut the dried apricots in half and add to the pan.
Peel and chop the carrots and add to the pan.
Sprinkle over the ground spices.
Dissolve the stock cube in the boiling water then add to the pan along with the tikka sauce.
Stir in the honey, lemon juice and rind then mix well.
Bring the mixture to the boil, stirring as you do.
Cover and simmer on a low heat for 2 hours, stirring occasionally, until the lamb is tender.
Sprinkle over the flaked almonds and serve.
Great served with Worldwide Foods Cous Cous.
Aldi Wine Matches
Looking for the perfect wine match for this recipe? See below for our dedicated recommendations:
Lot Series 15 Grés de Montpellier
Lot Series 08 Calchagua Carménère 2012
Lot Series 14 Minervois la Livinière 2014