Hearty and warming puff pastry pie filled with brie and veg. Perfect for a vegetarian centrepiece.
Leek, Brie and Spinach Pithivier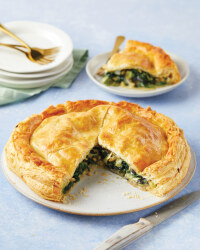 Recipe Information
Ingredients
2 x 375g Ready Rolled Puff Pastry
250g Leek, washed
240g bag Baby Spinach Leaves
1 Red Onion
200g French Brie
1 Garlic Clove
25ml Olive Oil
30g Butter
30g Pine Nuts
1 Egg
15ml Milk
Sea Salt and Black Pepper
Method
Pre-heat the oven to 180°C/Gas Mark 4.
Peel and finely chop the red onion.
Peel and mince the garlic.
Finely chop the leek.
In a large frying pan sauté the onions and garlic for a few minutes with the butter and olive oil.
Add the chopped leeks and cook a further 5 minutes.
Then add the spinach leaves and cook for another 5 minutes, stirring as you cook until the spinach leaves are wilted.
Transfer to a large bowl to cool.
Chop the brie into small chunks and add to the bowl along with the pine nuts, season and mix well
Roll out the puff pastry.
Cut out a 25cm circle from each of the sheets.
Put one onto a greased baking sheet and pile the cooled mixture on top, leaving a 5cm border.
Whisk the egg with the milk and, using a brush, paint some of this egg wash over the border.
Put the other circle of pastry over the top and press the edges down to seal.
Using a sharp knife, score some lines from the top to the base of the pithivier, then gently paint the remaining egg wash over the top.
Bake in the oven for 30 minutes, until golden.
Best served warm.
Recipe Tip
You can make 4 individual pithiviers in the same way by cutting out 8 x 15cm circles of pastry and then follow the recipe as above.