Creamy leek with tasty ham, cooked in a delicious cheese sauce.
Leek & Ham au Gratin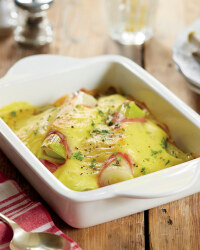 Recipe Information
Ingredients
500g/3 Leeks
6 Slices Cooked Ham
40g Greenvale Butter
40g The Pantry Plain Flour
1 Quixo Vegetable Stock Cube
1 tsp Bramwells English Mustard
550ml Milk
150g Grated Mature Cheddar Cheese
Salt and Black Pepper
Find your ingredients online on Click & Collect or find your nearest store using our Store Finder.
Method
Pre-heat the oven to 190oC/375oF/Gas Mark 5.
Cut the leeks in half, remove any coarse outer leaves and wash well.
Place the leeks in a medium saucepan, cover with boiling water, add a little salt, bring to the boil, then cover and simmer for 10 minutes.
Meanwhile, make the sauce by melting the butter in a small saucepan. Blend in the flour and cook, stirring for 1-2 minutes. Crumble in the stock cube, then slowly add the milk, whisking as you do until you have a smooth thick sauce.
Add the mustard, grated Cheddar cheese, then season with a little salt and plenty of black pepper.
Stir well and place the sauce on the side for later.
Drain the leeks and dry well. Wrap a slice of ham around each leek and place into a shallow ovenproof dish.
Pour over the cheese sauce and bake in the oven for 20 minutes until golden brown.