Baked nachos with a generous serving of chilli, melted cheese and homemade guacamole.
Leftover Chilli Nachos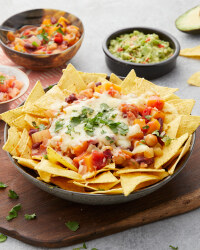 Recipe Information
Ingredients
300g leftover Vegan Chilli
200g Salted Tortilla Chips
80g Cheddar Cheese, grated
1 x Avocado
½ Lime, juiced
1 x Spring Onion, thinly sliced
1 tbsp Coriander, freshly chopped
1 x Red Chilli, diced
To serve
Salsa, Coriander and Lime Wedges
Method
Pre-heat the oven to 200°C/180°C Fan/Gas Mark 6.
Arrange the tortilla chips in an even layer on a baking tray and top with the leftover chilli.
Sprinkle over the cheese and bake for 10 minutes until the cheese has melted and the chilli has heated through.
While the nachos cook, prepare the guacamole by mashing the avocado with a fork and then add the lime juice, along with the chilli, coriander and spring onion.
Serve the chilli nachos with the guacamole, salsa, fresh lime wedges and coriander.