A fresh, herbaceous, citrusy oil that will amp up roasted veg, grilled meats and salad.
Lemon & Thyme Oil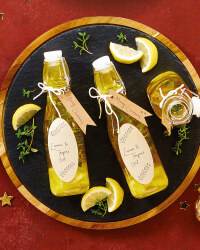 Recipe Information
Ingredients
500ml Extra Virgin Olive Oil
16 Sprigs of Thyme
2 Lemons, sliced
Method
Pour the oil and sliced lemon into a large jar.
Crush 12 sprigs of the thyme slightly to release the natural oils before adding to the jar.
Secure the lid tightly and leave in a cool, dark place for 2 weeks.
Strain the oil through a piece of muslin cloth over a bowl, discarding the herbs and lemon slices.
Decant the oil into a bottle.
Add the additional 4 sprigs of thyme before sealing.
Keep out of direct sunlight and enjoy within a month.