These tangy and tasty cupcakes are a sure-fire hit for parties and gatherings.
Lemon Meringue Cupcakes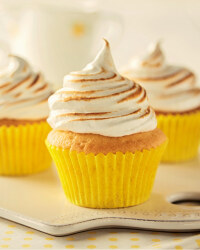 Recipe Information
Ingredients
190g The Pantry Self Raising Flour
290g Caster Sugar
190g Greenvale Perfect for Cakes Spread
3 x large Eggs
Grated rind from 1 Lemon
160g Grandessa Lemon Curd
2 x large Egg Whites
1 level tsp The Pantry Cornflour
Method
Pre-heat the oven to 180°C/350°F/Gas Mark 4.
If you have a food processor, add 190g caster sugar with the eggs, lemon rind, spread, and flour and pulse until well blended.
If not, beat the spread with the sugar, then beat in the eggs, lemon rind and then whisk in the flour until smooth.
Line a cupcake tin with paper cases, put a dessert spoon of the cake batter in each.
Top this with a teaspoon of the lemon curd.
Then cover the lemon curd with the rest of the cake batter – divide the batter between the cakes.
Bake for 18-20 minutes, until risen and firm to the touch, allow to cool.
Turn up the oven to 200oC/400oF/Gas Mark 6.
Whisk the egg whites in a clean bowl until stiff, gradually sprinkle in the remaining caster sugar, a teaspoon at a time until thick, sprinkle in the cornflour and whisk some more.
Fill a piping bag with meringue.
Pipe a round swirl on top of each cupcake.
Put back in the hot oven for 5-6 minutes – until the meringue is browned.