Bright and light, fresh and zesty. Tantalise your taste buds with Lemon Sea Bass and Olive Couscous.
Lemon Sea Bass and Olive Couscous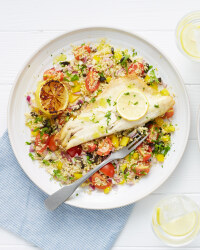 Recipe Information
Ingredients
2 Sea Bass Fillets
½ Lemon (sliced)
1 packet of Flat Leaf Parsley
75g The Foodie Market Couscous
90ml Quixo Vegetable Stock (boiling)
50g Solesta Black Pitted Olives (roughly chopped)
½ Red Onion (finely chopped)
100g Cherry Tomatoes (quartered)
2 Mini Peppers (diced)
Salt
Pepper
Wedge of lemon (to serve)
Method
1. Preheat the oven to 190C/170F Fan/Gas Mark 5.
2. Place the sea bass in some tinfoil with the half a lemon, pinch of salt and pepper and half the parsley, then seal.
3. Bake for 10-12 minutes until cooked through.
4. Meanwhile pour the boiling stock over the couscous and cover for 5 minutes then fluff with a fork.
5. Stir the olives, tomatoes, red onion, salt and pepper through the couscous and add the remaining parsley (chopped).
6. Serve the sea bass and couscous with a wedge of lemon.