Put the Lime in the Coconut and shake it all around.
Lime in the coconut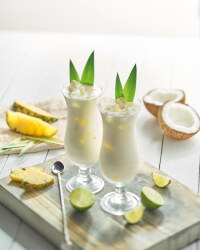 Recipe Information
Ingredients
50ml coconut rum
20ml cream
20ml milk
40ml coconut water
Dash of fresh lime juice
1 tsp of golden syrup
Lime/pineapple to garnish
Method
Shake all ingredients in a cocktail shaker with ice.
Pour into a glass and garnish with pineapple leaves.