Lot 07 Bushvine Chenin Blanc
Product Ref: 066418020853400
Product Information
By law we cannot sell this product to anyone under 18
This wine is rich and softly textured with a backbone of crunchy acidity. Layers of yellow apple, vanilla, peach and papaya give way to spiced quince and subtle toast notes, followed by pure tropical fruit flavours.
Enjoy with Fish Pie.
A creamy, comforting favourite for evening mealtimes.
Find more of our fantastic Lot Wines at amazing prices here

.
Closure Type
Screw Cap
Country
South Africa
Grape
Chenin Blanc
Region
Coastal
Style
Very dry
Vintage
2015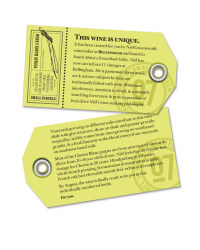 Allergy:

Contains Sulphites

Colour:

White

Food Matching:

Fish, shell fish, salads and chicken dishes

Serving Advice:

Chilled

Taste:

Dry & Floral

Type:

Award Winner

Units Per Bottle:

10.5

Units Per Serving:

1.8

Vegetarian:

Yes