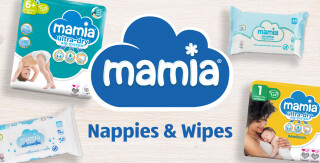 We'll help you find a nappy for every stage
They grow so quickly don't they? Which means the size of nappy you need will change as well. The good news is, we've got you covered, from keeping them nice and dry in that first newborn nappy, to larger sizes that will stretch and flex as they begin to roll, crawl and walk whilst protecting from leaks. Our range of award winning nappies is dermatologically tested and accredited by the SHA. Here's a bit more about the range.
Best for newborns
Our newborn range comes in sizes 1 & 2 and have a wetness indicator to help you know when it's time to change.

Super absorbent
Mamia ultra-dry air system range provides up to 12hour protection perfect for both day and night use. Size 4 awarded Which? Best Buy, with 95% recommending to use our nappies!

So grown up!
It won't be long before they'll want something that they can pull up themselves. That's when Mamia nappy pants come in to their own.

Premium newborn
Available in sizes 1 - 3, same great performance as Mamia Ultra-dry with added softness to protect their delicate skin.
Find their size with our easy guide.
Getting the right size nappy is so important. To help work out exactly what you need we've created a handy size guide you can download here.
Top Tip: As your baby starts to move their body shape changes and you may need to consider a smaller size to prevent leaks.
Why Choose Mamia Nappies?
Go longer between changes
Mamia's Ultra Dry Air System™ keeps your baby comfortable, dry and happy for up to 12 hours – handy if you're out and about or trying to get them to sleep through!

Safe for delicate baby skin
Take the best care of your baby's skin – Mamia nappies don't contain any perfume, lotion or latex and are accredited by the Skin Health Alliance.

Award-winning quality and value
In 2021, Mamia nappies won in the Loved by Parents, Made for Mums and Mother & Baby Awards – so you know you're getting top quality nappies at a fraction of the price!
What makes Mamia nappies and pants award winning?
Protection all day long
Keeping your little one dry and fresh means it's easier for you to relax too. After all, happy baby. Happy you.

Freedom to move
It's a good idea to find a nappy that baby finds really comfy. Something slim that allows them to move around freely.

Look, no sagging!
No one wants a saggy bottom. That is no fun at all. And with our Mamia nappies, they won't.

They're super stretchy pants
When they're enjoying a little rough and tumble you want a pant with a snug fit to stop any leaks.
What do Mamia parents say?
"If you like Aldi and you're a mama, their Mamia baby range is amazing"

"Brilliant. Excellent for the price. Would recommend to anyone"

"So impressed with the whole range of Aldi Mamia, definitely better than the rest"

"The wipes are nice and thick, not too wet or dry. The price makes them amazing value too"
'Professor' Rosie Ramsey puts Mamia to the test
Will 'Professor' Rosie Ramsey - co-host of one of Britain's most listened to podcasts, actor, singer and Mum of 2, give Mamia nappies a thumbs up? Let's find out…
Say hello to our award winners.
Our Mamia nappies, along with the rest of our baby range, won a bundle of awards in 2020. More importantly, recent polls show that our range also comes very highly recommended by parents at Netmums.

Which wipe?
Our award winning Mamia Baby wipes range is suitable for all skin types. Mamia wipes to clean hands, mop up spills and, of course, clean babies' bottoms – so you'll find our range has all you need for even the stickiest situation.
For extra sensitive bottoms
This wipe is as mild as cotton wool and water with no added perfume. Perfect for extremely sensitive skin.

Sensitive wipes
Mild and gentle baby wipes with natural aloe vera. They're fragrance free and suitable for delicate skin from birth.

Fragranced wipes
With extra soft cloths and natural Aloe Vera, our lightly fragranced wipes keep your baby's delicate skin feeling smooth and gentle wipe after wipe.

Award-winning
It's good to hear it from the people that know. And in a recent Netmums survey, 100% of Mums said they would recommend our Sensitive Wipes!
Ready to go?
Not long now. So, you'll need to be ready to grab that hospital bag and go. And we've got a handy list of all those hospital bag must-haves to help you get organised.