Deliciously sweet and zesty cheesecake made with fresh fruit and golden Manuka honey.
Manuka Honey, Blackberry and Orange Cheesecake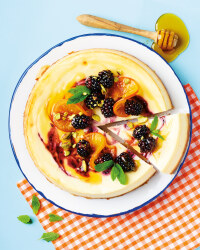 Recipe Information
Ingredients
For the biscuit base
225g Digestive Biscuits
85g Unsalted Butter
For the cheesecake filling
900g Soft Cheese
150g Caster Sugar
3 Medium Eggs , plus 1 Egg Yolk
200ml Soured Cream
50ml Manuka Honey
3 tbsp Plain Flour
1 Orange, zested
For the blackberry syrup
150g Blackberries
2 tbsp Manuka Honey
For the candied orange
250g Caster Sugar
250ml Water
1 Orange, thinly sliced
Toppings
Manuka Honey
Blackberries
Fresh Mint
Method
Pre-heat the oven to 160oC Fan/Gas Mark 4.
Grease and line the base of a 23cm spring form cake tin.
Blitz the biscuits into crumbs in a food processor.
Melt the butter and stir into the crumbs, then mix well.
Line the base of the cake tin with the biscuit crumbs and bake for 10 minutes, then leave to cool.
In the meantime, put the blackberries and honey into a saucepan and cook on a medium heat until you have a thick syrup consistency, then leave to cool.
Pre-heat the oven to 200°C Fan/Gas Mark 7.
In a large bowl, beat together the soft cheese and sugar until smooth.
Next, beat in the eggs – including the extra yolk, one at a time.
Add the soured cream, Manuka honey , orange zest and flour and mix well.
Lightly grease the sides of the tin, then pour half of the mixture into the cake tin and top with half of the blackberries and syrup.
Then, top with the rest of the cream cheese mixture and swirl the remaining blackberries on top.
Place in the oven and cook for 10 minutes before lowering the temperature to 90oC Fan/Gas Mark ¼.
Bake at the lower temperature for 45 minutes. The cheesecake should have a slight wobble in the centre, if it isn't cooked leave in the oven and check every 5 minutes.
Thinly slice the orange and add into a pan with the sugar and water then leave to simmer for 30-40 minutes until the fruit has candied in the syrup.
Remove from the pan and leave to dry on a cooling rack.
When the cheesecake is cooked, turn off the oven and leave to cool with the door slightly ajar.
When the tin is cool enough to handle, put the cheesecake in the fridge for several hours or overnight until ready to serve.
Serve topped with fresh blackberries, candied orange slices and drizzled with Manuka honey.