Packed with flavour! Mmmmmm sweet maple sponge cake. Yes please!
Maple Cake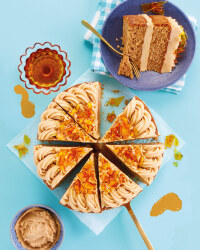 Recipe Information
Ingredients
For the cake:
225g Cake Margarine
225g Demerara Sugar
4 Eggs
100ml Maple Syrup
350g Self Raising Flour
1 tsp Baking Powder
1 tsp Ground Ginger
1 tsp Ground Cinnamon
½ tsp Ground Cloves
¼ tsp Ground Nutmeg
Zest of 1 Orange
For the filling
500g Icing Sugar
2 tbsp Maple Syrup
180g Unsalted Butter
Splash of Milk
For the decoration:
200g Granulated Sugar
60ml Water
Method
Pre-heat the oven to 180°C/Fan 160°C/Gas Mark 4.
Grease and line a 20cm round tin.
Cream together the margarine and demerara sugar until light and fluffy, then whisk in the eggs and maple syrup.
Fold in the flour, baking powder, spices and orange zest.
Transfer to the cake tin and bake for 60-70 minutes.
In the meantime, whisk together the ingredients for the frosting, then transfer to a piping bag fitted with a star nozzle - use half the frosting for the filling and half for the top.
Remove the cake from the oven, allow to cool, then slice into 2 halves.
Add half the frosting to the middle of the sponge, then apply the rest to the top in a pretty, swirly pattern.
For the caramel shards, gently heat the sugar and water until the sugar dissolves.
Increase the heat slightly, leaving the syrup to thicken and turn amber in colour.
Remove the pan from the heat and pour the caramel onto a sheet of greaseproof paper. Leave to set.
Break the caramel into shards and use to decorate the top of the cake.
Keep in an airtight container and enjoy within 2 days.