This spicy beef salad starter is as healthy as it is delicious. Packed with protein and delivering a punchy flavour, it takes a little planning thanks to its tasty marinade, but it's simple to cook and serve.
Margaret Andrew's Spicy Beef Salad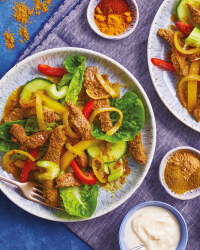 Recipe Information
Ingredients
500g Aberdeen Angus Scotch Rump Steak
200ml Natural Yogurt
1 large Onion
2 Cloves Garlic
100g Scottish Butter
1 heaped tsp Ginger
1 heaped tsp Chilli powder
1 heaped tsp Turmeric
1 level tsp Cumin
2 level tsp Curry powder
2 Little Gem Lettuce
1 Red Pepper
1 Yellow Pepper
4 Celery Sticks
½ Cucumber
Sea Salt and Black Pepper
Method
Cut the steak into strips, discarding any fat.
Put the strips into a bowl and cover with the yogurt, season with a little salt and black pepper and mix well.
Allow to marinate for 2 hours.
Peel the onion and garlic and slice them thinly.
Heat the butter in a heavy-based frying pan until melted, then gently fry the onions and garlic until soft but not brown.
Add the spices and cook for a few minutes longer.
Add the beef and yogurt mix, turn up the heat and stir until bubbling.
Turn down the heat, cover with a lid and simmer for 20 minutes.
Meanwhile, make the salad with the lettuce, peppers, celery and cucumber.
Divide between 4 plates and spoon over the hot beef and serve.